Introducing VW8000
A mixed signal wireless power IC that supports both inductive or resonant mode topologies
The ASIC
"VW8000", a 68 pin eQFN Analog Front End based on BCD process from STMicroelectronics with 200 built-in registers for programming and NVMs for calibration/trimming
The Purpose
to support the Tx side delivery of wireless power to the needs of the load on the Rx side with use cases which could not have been possible in the past
The Alliance
VW8000 was developed by consolidating WiTricity's wireless charging technology IP blocks with ST's essential IP blocks into an ASIC
Our Business
VW8000 is housed in Voltraware to support customer HW/FW design-in, commercialization and carry forward the next generation IC designs
Our Advantage
Voltraware is a licensee of WiTricity - the industry pioneer in wireless charging technology with preeminent portfolio of foundational & essential IP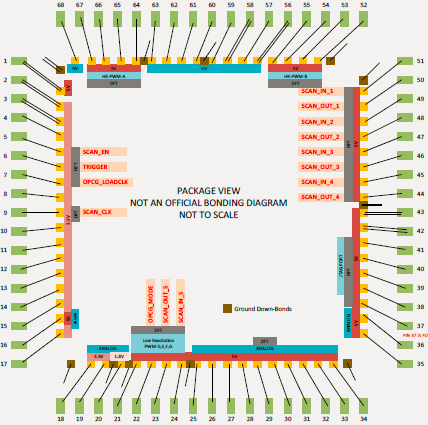 The majority of power delivery electronics today work in switch-mode, and they all share a basic principle that 1. power being delivered needs to be managed with some clever sequencing of on and off cycles of the transistors to make it suitable for a load and 2. impedance matching.  VW8000 addresses not only these two principle design-critical areas with inventions but also implemented innovative mechanisms to support these inventions with precision, smartness and safety.  VW8000 is the following:
A high precision 16 channel signal acquisition & conditioning system together with a programmable Finite State Machine to support the selection of channels, resulting in reduced MCU overhead, to provide the desired signals to MCU's ADC for digital signal processing.
2 high-precision PWMs for clever switching (like fuel injection management system to an engine) that deliver precise amount of power at perfect timing
4 quadrature phase mixers for precise impedance and phase measurements
2 sets of "Pin Safety Logic" that monitor analog and digital inputs to offer auto regulation/protection of power delivery system without the need of MCU intervention

VW8000

ASIC can be deployed in any wired and wireless power transfer applications. Compatible VW8000 systems can be built to meet a wide variety of complex protocols including A4WP, PMA, WPC and custom formats with provisions to support either In or Out of Band communication
Download VW8000 Brochure
and understand how VW8000 offers the best-of-bread performance with smartness and safety
Get in touch. Let's talk!
Voltraware Semiconductor Corp. 龢諧科技
We can help achieve your design goals!