Powering All Desktop Devices, Wirelessly!

There are 3 key capabilities of Magnetic Resonance Wireless Power that uniquely deliver compelling user experiences.
The first is spatial freedom. Your electric toothbrush uses Magnetic Induction, similar to the technology of a transformer. With induction, two matching coils must be precisely oriented to each other and be effectively touching for power to transfer. This is why your electric toothbrush must be precisely placed on a stand. With Magnetic Resonance, you have the flexibility to "drop-and go" charging that is central to a positive user experience.
The second is transmitting power through materials.  Magnetic Resonance can transfer power over a distance, but that can also be through wood, stone, glass, concrete, asphalt and the like. The PTU charger can be mounted under a desk, or embedded in the dry wall.
The third is charging multiple devices. With Magnetic Resonance,  you can charge multiple devices at the same time from one PTU power source. Each device, as it arrives at the source, can efficiently draw the power it needs. In our connected lives with multiple battery-powered devices, having a common charging source that can feed all our devices is again central to a positive user experience.
Typical Desktop Wireless Charging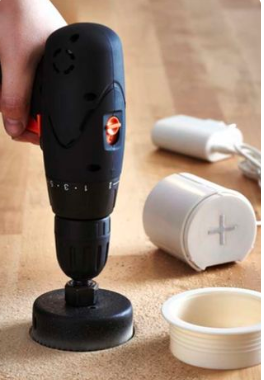 Desktop chargers are the most popular way of wireless charging Qi compatible smartphones in the consumer market.  The advantage of the desktop chargers are portable and economical, however, wires are still visible on the desk.  Some users do not like the fact that the charging pad and the wire occupy their precious desktop space and interfere their work.
Embeded surface charger requires drilling a hole to allow the installation of the charger.  The advantage of the embeded charger is that the wire can be hidden under the desk and the charging pad can be flush with the surface, however, drilling is typically a difficult (and even risky) job for the average users.  Not to mention when the desk is an expensive antique or marble while drilling through a glass surface is nearly impossible!
Through Table Wireless Charging
In total, there is estimated more than 10 million views on Youtube videos showing how to modify a furniture (mostly nightstand ) to embed a wireless charger.  These videos all have one thing in common – drill a hole or recessed to install the charger.
Technology advancement in Qi compatible transmitters today has improved the effective wireless power distance that can allow simple, under table installation of transmitters to power through the thickness of a table without drilling!
Through Table Wirelss Charging will:
– Enable consumer DIY installation market
– Save service cost and reduce risk of B-to-B infrastructure wireless charging market
– Enable system furniture makers with ease of wireless power integration
It is expected that a significant market share of wireless chargers will be Through Table type in 2020 to the above Furniture related market. 
Ready to enable wireless power on all desktop devices and
get rid of the tangled power cords?
OR Contact Direct:
Sales@voltraware.com
Director of Technical Marketing, Voltraware Semiconductor Corp.